Working together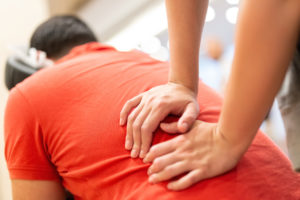 Formed in 2005, On the Spot offers an on-site seated massage service in office and workplace settings that are tailored to the needs of your organisation and each treatment.
Your employees are your greatest asset, so why not let us help you to look after them? Studies suggest that massage and other therapies may reduce stress, increase motivation and improve productivity. Research shows that healthy and supported staff perform at higher levels and take fewer sick days with the total cost of ill health to the British economy as more than £100billion*  and that the key for all successful businesses is realising the importance of preventing ill health amongst their staff.
We are always keen to partner with those who demonstrate an ongoing commitment to the welfare of their staff. Our massage and complementary therapy service promote the well-being of your workforce; helping to improve their mental, emotional and physical health. This is not just about relaxation and reducing stress, although it does this too – it is about people performing more productively, effectively and creatively because their lives are well-balanced.
(*Dame Carol Black DBE, reporting on the Health of the UK workforce 2010. DWP)
Working towards wellbeing
Here are some of the reasons why massage is a must for companies that value their workforce:
Low cost and low time investment strategy for stress reduction
Demonstrates care and commitment to the wellbeing of staff
Improves morale as employees feel valued
Can be easily used in employee incentive schemes
Improves creativity and promotes a healthier, happier environment
May help with recruitment and retention of staff
Increases sense of loyalty
Reduces the likelihood of absence from work due to stress-related illness
Employees are more alert, productive and efficient
It helps prevent RSI and other issues that arise from a computer and desk-based activities
May help reduce headaches, eye strains and musculoskeletal aches and pains
Regular treatments and advice given can help long-term postural issues
Helps in attracting potential new employees
Massage is performed through clothing and fits easily into a normal working day
To discuss your needs in more details find out how we can help please contact On the Spot
Information for receivers
On the Spot team are highly qualified, skilled and experienced therapists, we will ensure that our massage hits the right spots, with the right amount of pressure. We pride ourselves on paying attention to your needs during each session, we then apply our expert skills to help alleviate symptoms such as aches and pains, headaches, migraines, repetitive strain and many of the stress-related problems that are common today.  Helping you feel better, look better and perform better.
The on-site, seated massage usually focuses on the upper body and back areas, your massage will be performed through clothes whilst you relax on one of our ergonomically designed, on-site massage chairs. A 15-20-minute session is enough to make a noticeable difference to your tensions; helping to relieve the pressures of everyday life so that you leave feeling relaxed, refreshed, revitalised and re-set.
Our on-site, seated massage is performed in a private space, through clothing, whilst the client relaxes on a chair specially designed for this purpose. The treatment is tailored to suit each individual and will specifically target areas of need.
More about your treatment
Each on-site, seated massage session is tailored to your needs at the time, based upon the information you provide and the therapist's observations. As such, each treatment may include a variety of different bodywork techniques to achieve the desired outcome.
Benefits of massage
Massage can –
Relax muscles, ease tensions and alleviate aches and pains
Help reduce stress, improve mood and boost the immune system
Relieve symptoms such as headaches and eyestrain
Help prevent repetitive strain injury
Support recovery from overuse injuries
Leave you feeling relaxed and revitalised
Increase focus, energy and mental clarity
Improve the quality of sleep
Improve body awareness and help improve posture
Can be refreshing, rejuvenating and restoring
For helpful tips, explanations and stressbusters read this guide – Stress info for Healthy Living
Studies that support the effectiveness of corporate massage
The effect of a corporate chair massage program on musculoskeletal discomfort and joint range of motion in office workers
– Siško, Videmšek and Karpljuk, Journal of Alternative and Complementary Medicine, 2011 Jul;17(7):617-22. Epub 2011 Jun 20.
Conclusion: "On-site massage sessions twice per week for 1 month are the most effective interventions (compared to one session or no massage intervention) for decreasing the duration of musculoskeletal ache, pain, or discomfort and for increasing range of motion"
Massage therapy in the workplace: reducing employee strain and blood pressure
– Gillian et al., Giornale Italiano di Medicina del Lavoro ed Ergonomia. 2009 Jul-S ep;31(3 Suppl B): B25-30. Results: "Both strain and blood pressure were significantly reduced during treatment for the experimental group but not for the control group."
Conclusion: "This study provides initial support for the effectiveness of workplace-based massage therapy as part of a comprehensive workplace health strategy"
Working with experience
As a company with over 20 years experience, we understand that the key for all successful businesses is realising the importance of preventing ill health amongst their staff, through supporting them to reach their fullest potential every day. We have an extensive team of highly qualified, skilled and experienced therapists throughout the UK whose combined knowledge and expertise provides a professional and adaptable service.
Working for you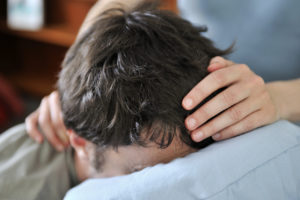 These are our most popular approaches for your consideration:
Monthly Oasis – we can offer you the opportunity to establish an on-site massage and complementary therapy service in your workplace and provide an oasis of calm to refresh and revitalise staff. A treatment once a month can turn their lunch hour or toil time into a lasting treatment that supports their well-being, health and productivity. The treatments are usually paid for by the staff themselves (sometimes subsidised by the organisation).  All we require from you is a private, uninterrupted space to set up our equipment and manage the treatments, and a member of staff to liaise with who will manage the bookings. This is our most popular service.
Well-being days – we can provide a series of massage and complementary therapy treatments including deep tissue, remedial and bodywork massage, reflexology, Indian head massage and acupressure chair-based massage. These incentive/reward days help staff to feel appreciated and supported, they also encourage an engaged, motivated and healthy workforce. With our current client base on average, we provide two well-being days per year. Sometimes this is paid for by the organisation, sometimes by the staff – they are always supported with time off given to the staff to receive the treatments.
"Absolutely brilliant!! I can't recommend On the Spot highly enough.  'Healing hands' helped cure a persistent sports related injury that has subsequently not recurred and the advice was as invaluable as the treatment. I am also lucky enough to have massage sessions at my office on a regular basis and the 'soothing' massage is a great aid to stress relief and general well being."
"Very professional. Received all required information promptly. Staff all reported a very positive experience."
"We received a professional, friendly and informative service from Sally. I can say that now we have experienced the services provided, we see a real benefit in making the treatment a regular occurrence for all staff to benefit from. The feedback we have been given by our employees was all positive, reports of feeling relaxed and less tense (although most people didn't realise they were before the treatment). We see the service provided by OTS as a way to assist our employees in being less stressed, tense and to encourage them to relax more. A healthy, happy and productive workforce is the goal and we believe OTS can help us achieve this. Thank you again!"
Next steps
So whether you would like to support your staff's health and help reduce stress and other symptoms such as headaches, eyestrain and repetitive strain injury or to reward them for reaching their targets, we can offer you what you need. Whatever the size of your business, we would like to help you maintain its smooth running and its continued success by taking care of your staff with an on-site seated massage.
To discuss your needs in more details find out how we can help please contact On the Spot