Successful events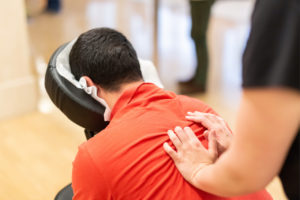 Our team's extensive experience in a wide range of environments and establishments allows us to tailor our treatments to your specific needs, ensuring that each client receives a personal, thorough and helpful treatment. We offer a range of therapies that can be carried out with the client fully clothed so are suitable for any environment.
Whether you want to pamper delegates, reward attendees or attract and retain the attention of visitors, our carefully selected therapists can help.
Unique events – On the Spot Massage at Events and Exhibitions
We add value wherever we go and make a world of difference to any event, exhibition or conference because our service is as unique as your needs.
One of our most popular services is creating a Relaxation Zone within an event where we provide everything needed to create an oasis of rest and rejuvenation.
A restful, themed space equipped with two or more Oakworks™ ergonomic massage chairs
A team of therapists, in uniform, delivering unique, tailored 10, 20 or 30 minute massage treatments to customers
Additional offers to meet the needs of your conference or event such as priority treatments, discounts for staff, or guidance and advice.
Whatever large-scale event or conference you are organising or low key function that requires the balance of relaxation as part of its complete package, let us help to make it unique.
Imagine how massage could enhance the following events:
Conferences / Conventions
Trade shows
Staff incentives
Product launches
Sporting events
Shows
Parties
Corporate events
Reward schemes
Team building events
"Amazing experience. I got relieved of my stress and the pain in my neck is gone. Thanks.'
– Irshad Khan (ELF Shipping LLC)
"Lovely massage, firm but not painful. Very relaxing in such a busy atmosphere."
– Jemima Kinchin (24/7 Exhibition Services)
 "Fantastically energising, apparently I had more tension in my shoulders than I knew, thank you."
– Mark Mulligan (IMEX Exhibitions)
Book us for events
Contact us and discover how we can help make your event a great success >